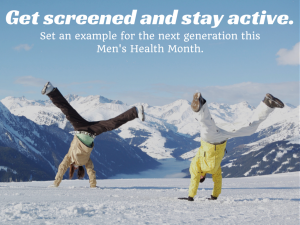 June is Men's Health Month. This annual observance is designed to raise awareness of preventable health issues and encourage early treatment of disease among men and boys. Males and their families are encouraged to take control of their health, which includes physical and mental health, by getting proper screenings. This year, the campaign highlights the importance of staying active and setting a healthy example for future generations.
Each year, millions of American men experience diagnosable depression, but it often goes undiagnosed. Male depression often presents as fatigue, irritability, and loss of interest in work rather than sadness or worthlessness. Other major mental health issues that men experience include bipolar disorder, eating disorders, psychosis and schizophrenia, substance abuse, and anxiety. Unfortunately, men are less likely than women to seek treatment due to social norms, a reluctance to talk, and a tendency to downplay their symptoms. Let's encourage men to garner strength by connecting with their emotions and asking for support when necessary.
If you are concerned that you or a loved one might be experiencing signs of a mental illness, visit your physician as soon as possible. There are some cursory screenings at https://screening.mhanational.org/screening-tools/ (**Be sure to call 911 and seek immediate attention, if you or your loved one has suicidal ideation.)
World events continue to be inflamed. Collectively, we have endured additional trauma, grief, and anxiety. Our self-care and mental wellness practices have been put to the test.
I hope this post serves as a reminder to take time for yourself, breathe, and utilize the self-care tools that you know work best for you. If you need additional support during these ever-changing times, please schedule an initial consultation with me to learn how coaching can help.
The goal of Men's Health Month is to help the men you know live healthier, happier lives. Let's encourage the men and boys in our lives to take excellent care of themselves! And, Ladies, let's be sure to take care of ourselves so we can be more present with the gentlemen in our lives.
Note: Not responsible for the content, representations, or claims of websites referenced.